Oak (Latin name: Quercus) grows as a deciduous tree in Europe, North America and Asia. It belongs to the beech family and is found at European latitudes such as the sessile oak (winter oak) and the English oak (summer oak).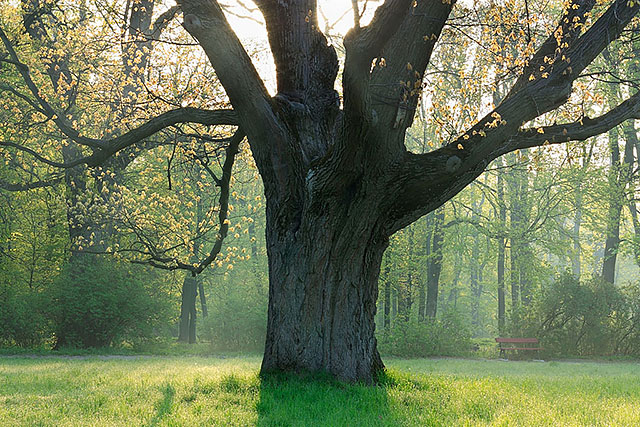 Table of contents
Event
Red oak is also found in the Eastern United States, but its wood is less well structured and therefore less valuable. The cork oak found in Spain and Portugal is used for the production of bottle caps and insulation. The wood industry prefers the wood of Textile and Pedunculate Oak because of its weather resistance and good appearance.
Oak wood properties
Oak wood has a narrow, yellowish white sapwood and a heartwood ranging in color from light brown to dark brown. The grain has a uniform structure, in which the annual rings are clearly visible. Unlike the weather-resistant heartwood, sapwood is not suitable for processing. The average gross density is 0.65 g/cm³. With its hardness and extraordinary resistance to environmental influences, oak wood is very valuable. Both in soil and underwater, the wood is extremely resistant and hardly deforms. The best example is the Dutch city of Amsterdam, where both the train station and all the houses along the historic canals were built entirely on oak stilts. Since oak wood contains tannic acid, the metals that have been incorporated oxidize quickly. Screws and nails rust faster, which can lead to discoloration of the wood.
Processing
Oak wood can be excellently processed and can be turned, milled, planed, sawn or sanded as desired. However, steamed oak wood is softer and therefore more flexible. To further improve the visual appearance, the wood can be stained, varnished or painted without any problems. A protective treatment for outdoor use is not necessary due to the weather resistance of the oak wood.
Use
Oak wood is one of the highest quality woods and is often used in interior furniture for sturdy wall and floor coverings. The construction industry uses oak wood in the construction of houses. The best examples are roof trusses or half-timbered houses whose beams can last for many centuries. Due to its resistance to moisture, oak wood is used in the construction of barrels for the production of beer, sherry, wine and whisky. An additional advantage is the special aroma that develops during storage in oak barrels. In addition, oak wood has a beautiful decorative surface. For this reason oak wood is also preferred in the construction of noble solid wood furniture. As a historical detour, it should be remembered at this point that durable oak wood was indispensable for shipbuilding in times gone by.
Care tips
Because oak wood is extremely weatherproof and robust, it requires no special care. Protective coatings in the garden or terrace are basically useless. However, a special wood oil can be used for occasional cleaning.