About us
"For love of country and tradition"
The cohesion and protection of the family, traditional craftsmanship, natural materials, love of the homeland - all of these things characterise our values. We, the Insam family, want to share all this with you. Because there is nothing more beautiful than making other people happy with our lovely, lovingly made woodcarvings from Valgardena. Come and get to know us!
Lignoma, this is us ...
... us, the Insam family from beautiful S. Cristina in Val Gardena in Trentino Alto Adige and our two long-standing employees Urban and Ivo.
As a family, we have been working together for several generations. Everyone brings their own talents and skills to make Lignoma what it is: a modern, family-run business with an online shop that does not only focus on economics, but always takes into account interpersonal and personal relationships with customers.
Rino Insam: company founder
From an early age, Rino's heart beat for art. In 1980, after successfully completing the school of sculpture and handicrafts, specialising in the art of 'carving', he decided to found our family business in S. Cristina.
Irma Insam
Our mother Irma works in the shop and decorates the statues.
Andreas Insam: second-generation managing director
Rino and Irma's son Andreas took over the company in 2015 and founded the online shop lignoma.com in 2012.
Isabell Insam
Isabell is Andreas' wife. She works in the shop and in customer service.
Verena Insam
Andreas' sister Verena has recently taken over the social media channels of lignoma.com. Visit us on Facebook or Instagram!
Ivo e Urban
Our employees Ivo and Urban have been part of the Lignoma family for over 20 years. Both are skilled woodcarvers.
Our history
How we became, what we are today. More information about the history of Lignoma.
Woodcarving in Val Gardena: a history that goes back more than 350 years.
The art of woodcarving is closely linked to our homeland, Val Gardena. Already more than 350 years ago the first sculptors from our region made a name for themselves. At that time it was mainly economic difficulties that drove farmers to look to sculpture as a source of income. Today it is the love for the raw material, wood, that motivates us to preserve our local artistic craftsmanship and to give sculpture a modern touch.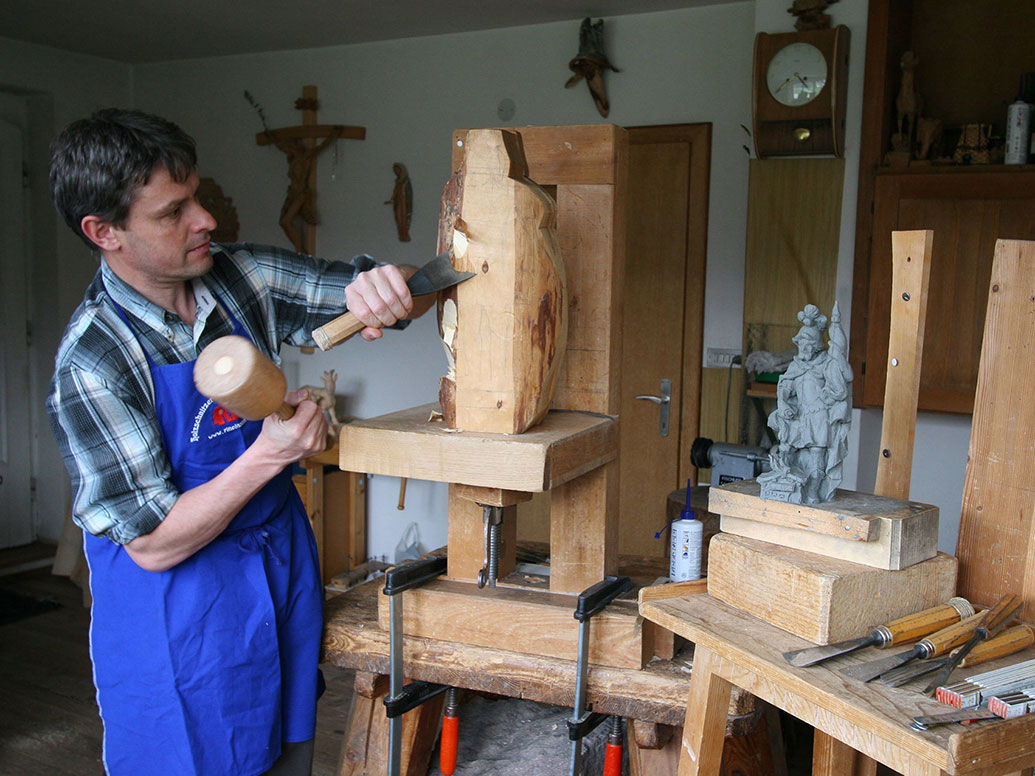 Rino Insam
Wood is a natural and renewable raw material with exceptional workmanship. Forests dominate the landscape of Val Gardena. In each of our characters there is a piece of history and nature and we are proud to carry on such a fine tradition.
From a small workshop to a successful family business
When our father Rino Insam successfully passed the examination for master craftsman in "carving" in 1980, he decided to start his own business. With a true pioneering spirit and driven by his love for his art, the traditional Val Gardena sculpture, Rino started his young company and faced difficult times in the early years.
The modest room that Rino initially used as a workshop soon became a small house in the heart of Santa Cristina. Finally, in 2001, our new workshop in Via Gherdeina 7/A in S. Cristina was officially opened - much more spacious: here we produce our sculptures and welcome you personally to our shop.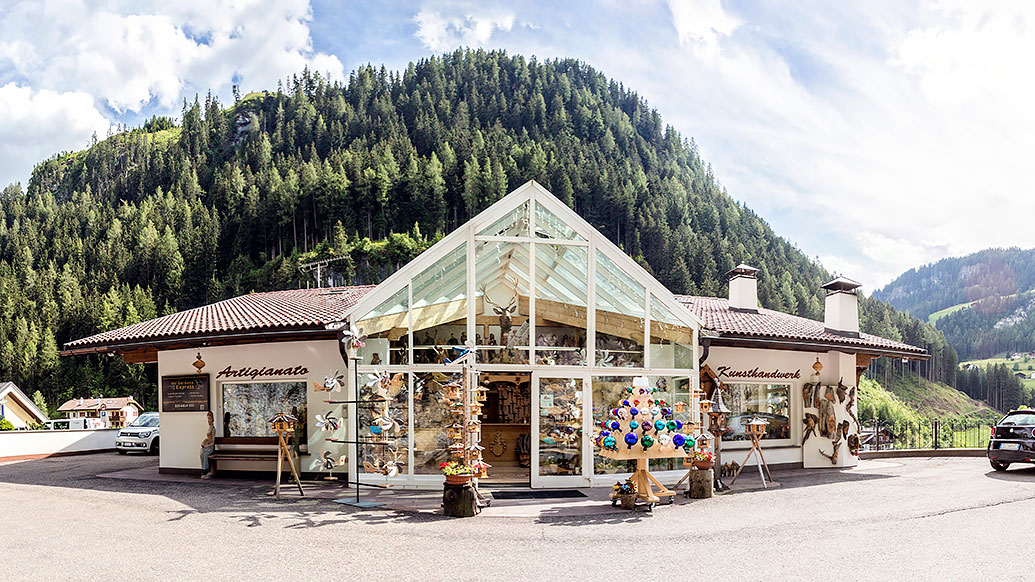 Our wooden figures store in S. Christina
Almost ten carvers and painters work hard at our premises. We also cooperate with external sculptors, carvers and painters in order to be able to offer our customers a wide range of products.
Together through difficult times
The path of the family business has not always been easy.
When Rino set up his business in the early 1980s, there was a huge demand for woodcarvings from Val Gardena. But then there was a period when sales declined and many businesses were forced to close.
We would never have given up on our family business - with perseverance, diligence and a little bit of luck we managed to survive and overcome these difficult times, both as a small business and as a united family.
The art of carving in the online shop
At the end of 2012 we founded the online shop lignoma.com, to offer the possibility to those who do not come to Val Gardena, to buy our sculptures. In addition to our products, in our shop you can also find works of other local authors. We are very proud to make the art of carving known to the world.
Our values
" For us, the art of woodcarving is a tradition that must be preserved, so it is part of what we call our home".
In addition to family, tradition and connection to the homeland are core values at Lignoma.
We love working with wood and the ancient and unique art of carving in Val Gardena.
And we want to share our love for Val Gardena woodcarvings with you - the high quality of our products and the satisfaction of our customers are particularly close to our heart.
The personal relationship with our customers is very important to us. We regularly receive postcards with photos of Christmas cribs or precious wooden statues. We are very happy to know that our wood art is so appreciated.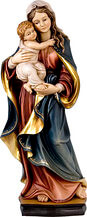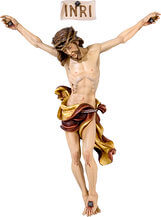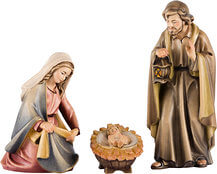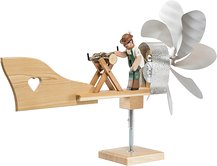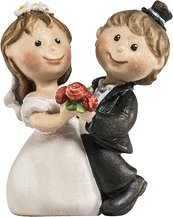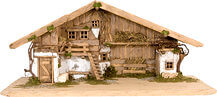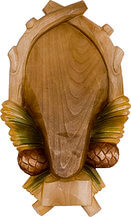 What does the name "Lignoma" mean?
The name of our company comes from the Latin word "lignum", which means "wood".
For us, wood is not just a material from which any shape or object can be created.
For us, wood is a tradition, a home, a quality, a valuable resource. We are very aware of this and wish to offer our customers only the best quality woodwork. That is why we only work with high-quality European timber.
Wood art, which connects people
Val Gardena woodcarvings are collector's items. Thanks to their uniqueness and their high quality, their value increases over the years. Many of our customers pass on the sculptures to future generations, who combine beautiful memories with wooden objects and cribs.
Buying in our online shop is an investment in works of art that you can enjoy for a long time. We are therefore pleased to offer you our advice during and after your purchase.
You can contact us here.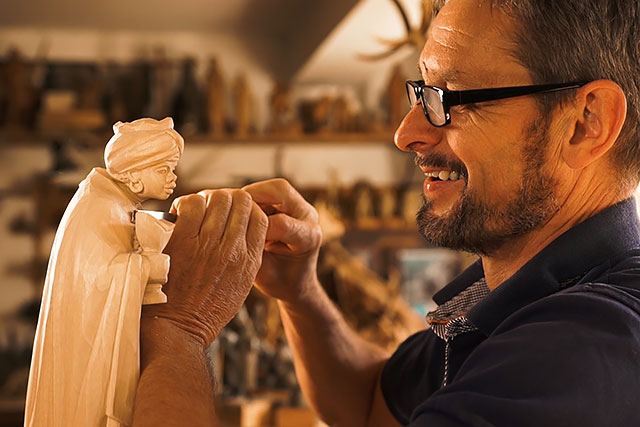 Rino Insam carving a nativity figure
Created with love. Our products.
Our product range includes over 300 different models that we still produce ourselves. In addition to nativity scenes and nativity figures, we also make religious statues such as angels, madonnas, religious statues and wooden crosses. Musicians, mountaineers and reliefs of typical mountain farms in our region complete our offer.
Today, as in the past, all sculptures are exclusively made in the South Tyrol region. Also the products of other sculptors that you find in our shop come exclusively from carvers and wood painters in Val Gardena.
An environmentally friendly production is as important to us as the high quality of our sculptures. For this reason we only use linden, maple and pine that meet our strict quality requirements. Our characters are painted with oils or watercolours that are harmless to health.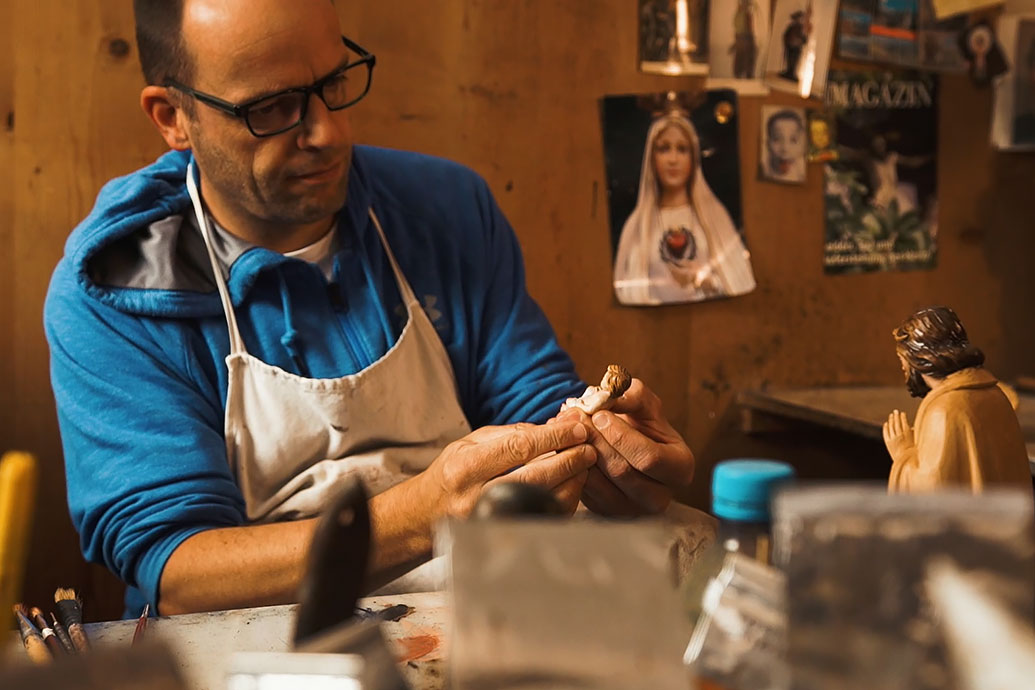 Nativity characters painted with love