For those who want to learn to carve, you need good carving tools but also a high awareness of safety, precision and, above all, patience. The motto "only fast" can quickly lead to serious injuries during the activity. It is above all when working calmly and with dedication that the most beautiful pieces are produced.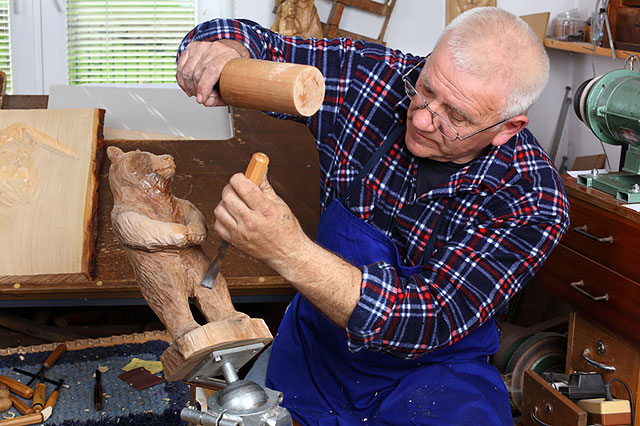 Safety at the carving table
Before you can start carving as a beginner, it is important to set the carving table. This includes brilliant illumination, which can consist, for example, of a lamp with an integrated magnifying glass. In order to be able to work safely and without injury, you need a wood locking device and finally, use targeted carving tools. Good results can only be achieved with perfectly sharp, stable and hardened tools.
Tips: to save money, beginners should first use brand name carving tools to see if the hobby might be suitable.
The right tool is essential
The choice of carving tools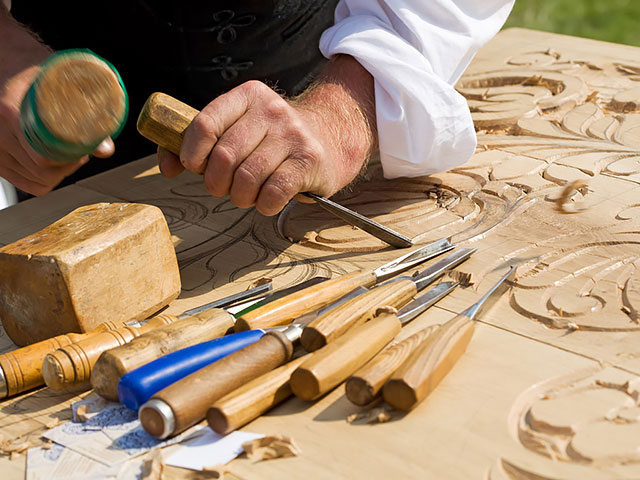 Good carving knives are essential
If you want to work, it is not only possible with a small knife. To obtain beautiful and clean surfaces, a carver needs tools of different sizes. Corners, edges, surfaces, waves or complex patterns with many folds require the right tool. The more you have, the easier it will be to try and gain better experience. Another tip: don't forget to resharpen!
About carving and grinding
With each cut, the tool becomes a bit blunt. If the blade is not sharpened in time, the effort will result in unsightly surfaces. In the worst case even small pieces of wood break and the work is ruined. To avoid this, the tool must be resharpened regularly. Experienced woodcarvers therefore talk about "removing the resharpening tool". Only with the knowledge and constant alternation of carving and grinding can beautiful works of art finally be achieved. Suggestion: Always practice grinding on brand-name carving tools. The result always pays off. Because of their softness, inexpensive tools have only an inadequate practical effect.
The choice of material
The soft lime-wood is particularly suitable for carving. Alternatively, you can use the swiss stone pine wood. Hard oak is not recommended for beginners. You can find more information about the various types of wood in the article: Which wood is most suitable for carving.
Tips for beginners
Basically, there is no need to inflict force on the work. Leveraging and breaking are considered "brute force" and are completely out of place during sculpture. Always stop and think about the next cut and avoid doing "dry exercises", then do several tests before using the cutting tool. Do not forget to wash your hands regularly. Gently blow away dust and shavings or remove them with a brush, do not use your finger or the whole hand. Although you wash your hands, grease and dirt will transfer to the work surface and workpiece. As long as the actual carving has not yet been completed, sandpaper is prohibited as its residues may dull the carving tool. After that, surfaces can be smoothed smoothly. Very dry sanding blocks should be wrapped with a damp towel overnight.
First works
Small filigree engravings are absolutely unsuitable for beginners. If you want to realize the dream of creating a Nativity set with its numerous figures, you should not set yourself this goal immediately, otherwise you risk bitter disappointment. The more the statue is in filigree, the more difficult is the elaboration. It is much better to start practicing with large subjects: an animal, a plant or utensils such as plates or bowls are suitable. Tip: large things require wide carving tools, small things and precision work require narrow tip shapes. Gouges can be used on both sides, i.e. normal or upside down..
Conclusion
Those who wish to learn how to carve wood correctly, should treat the wood with patient sensitivity, regularly check the carving tools and re-sharpen them. In this art there are no special rules or masters fallen from the sky. The desire to gain experience through so much practice and interpret the sense of beauty is fundamental. Only then, with perseverance and dedication, will it be possible to create the first works of wood carving art made with your personal favorite carving tools.