For most people, it is impossible to imagine the pre-Christmas season without it: we are talking about the Advent calendar, which nowadays adorns walls, mantelpieces and doors in all kinds of variations and is particularly popular with children. But where does the tradition of opening a little door each day actually come from? How long have Advent calendars been around and how have they changed over time?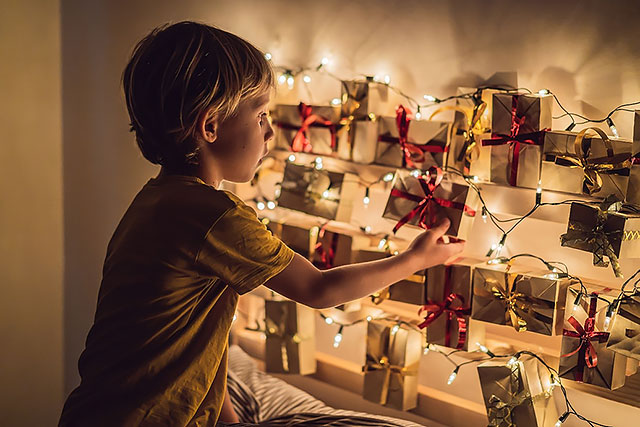 The importance of the Advent calendar: One in four people give a store-bought calendar as a gift
Before we take a closer look at the history of the Advent calendar, let's take a look at the significance of the Advent calendar in today's world. How popular are Advent calendars? And are purchased or homemade ones more prevalent?
In a survey by YouGov and Statista, two out of five Germans said in November 2020 that they would give an Advent calendar as a gift. Giving Advent calendars as gifts is particularly popular among women (48 per cent), while only 35 per cent of men plan to do so. One in four Germans would like to surprise someone with a bought calendar, while 9 per cent go to the trouble of making their own. 53 per cent of those surveyed said they did not intend to give away an Advent calendar this year.
Incidentally, the most popular Advent calendar is filled with sweet chocolate, which is true for both women (58 per cent) and men (56 per cent). According to the survey, small gifts of one's own choice - cosmetics, prizes and toys - are also popular Advent calendar surprises.
Origin of the Advent calendar: Where does the Advent calendar with the 24 doors come from?
In contrast to Christmas itself, the Advent calendar is a fairly young holiday tradition, its history only beginning in the 19th century. While it was initially intended for children to shorten the wait for the festivities, today adults also enjoy the Advent tradition.
Counting aids: Predecessors of the Advent calendar
The predecessors of the Advent calendar looked quite different from today's calendars and were also called something else. They functioned as counting aids that showed how many days were left until Christmas Eve. The idea was to make time visible. Counting the days until Christmas also taught children in middle-class circles patience and discipline.
In Protestant families, a Christian picture was hung up every day in the lead-up to Christmas, or 24 lines were drawn on the wall or door. The children were then allowed to wipe away a chalk mark every day. Catholic believers placed a straw in the empty Christmas manger every day during Advent so that the Christ Child would have a soft bed for Christmas. An Advent candle with 24 marks that burned down each day until the next mark or a Christmas clock represent other counting traditions.
According to folklorist Esther Gajek, Advent calendars also stood for the secularisation of the Christian meaning of Christmas. As the gift-giving ceremony became the central part of the celebration, the Advent calendar, with its mini presents, was intended to bridge the gap.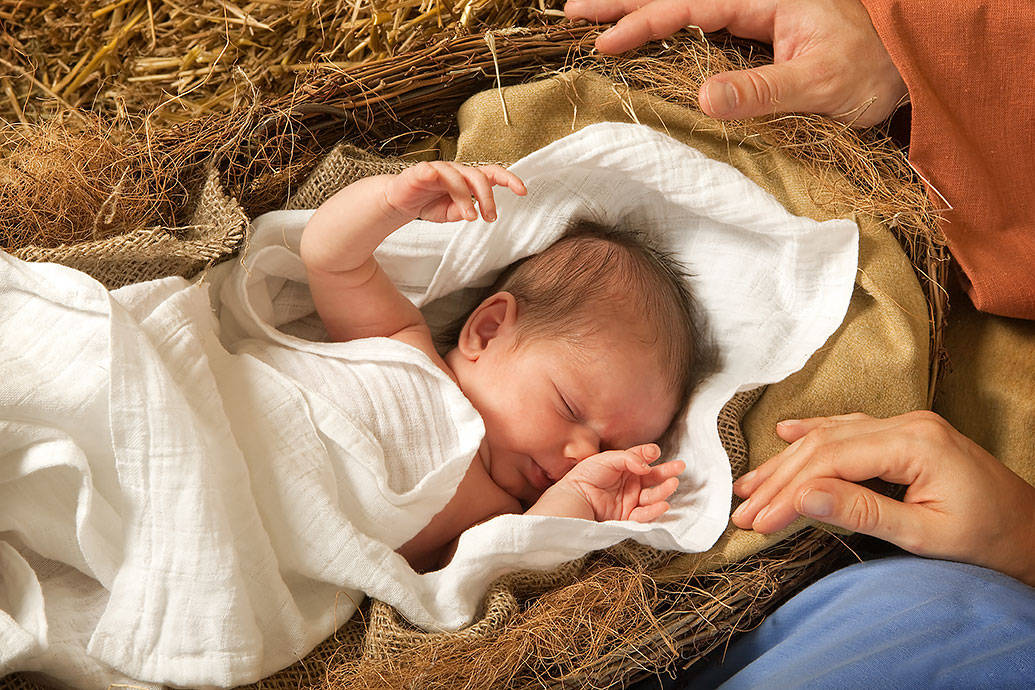 Precursor of the Advent calendar: In the past, children used to put a straw in the empty Christmas manger every day in the lead-up to Christmas to count down the days.
In 1902, the Trümpler Protestant Bookshop in Hamburg published the first printed calendar in the form of a Christmas clock for children. The little ones could turn the hands of the clock one space each day. The spaces were printed with excerpts from well-known Christmas carols.
Six years later, the Munich publisher Gerhard Lang also had a printed calendar for children produced with the title "Im Lande des Christkinds". The calendar consisted of two sheets of paper: on one sheet were 24 pictures and on the other 24 spaces. During Advent, the children were allowed to cut out one picture each day and stick it on the corresponding space. The Advent calendar thus became more widespread among the population and was no longer just an individual tradition of many families. Lang had also been inspired by an old family custom for his Advent calendar: In his childhood, his own mother had attached 24 biscuits to a cardboard box to make the wait for Christmas more bearable for her son.
Another innovation: the number of doors has now been set at 24. This is because the calendars before that usually referred to the church year and covered the whole of Advent - from the 1st Sunday in Advent to Christmas.
The Advent calendar we know today, with doors that can be opened, appeared around 1920 and was invented by an English priest who hid religious figures behind the doors. Some other calendars used Bible verses.
Advent calendars during the Third Reich
During Nazism, Christian customs were suppressed and replaced with new ideological content. The Advent wreath, for example, was transformed into a sun-wreath and the Christ Child was renamed the Light Child. The Advent calendar was also not spared from this development. It still existed but in a different form. The calendar distributed by the Nazis was simply called "Vorweihnachten" (another word for Advent) and consisted of Nazi Christmas carols, pictures of tanks, instructions for making Christmas tree decorations in the form of black suns or runes, and fairy tales. It was thus more a propaganda tool than a gift for children at Advent.
An economic miracle: the success of the chocolate calendar
Thanks to the economic upswing after the war, Advent calendars became increasingly affordable and took off in popularity. The chocolate calendar, which sweetens the Advent season until Christmas, was first produced in the late 1950s. Chocolate calendars are especially popular with children, but for adults, there are also calendars featuring Christmas designs with sayings, pictures or other surprises hidden behind the doors.
Some parents make their own Advent calendars out of small bags and hide little presents or toys for their children in them. Some partners also get creative and fill 24 goodie bags with little expressions of affection for their loved ones.
In the online age, of course, the virtual Advent calendar is a must. In the lead-up to Christmas, many online retailers also offer Advent calendars with Christmas bargains hidden behind the doors.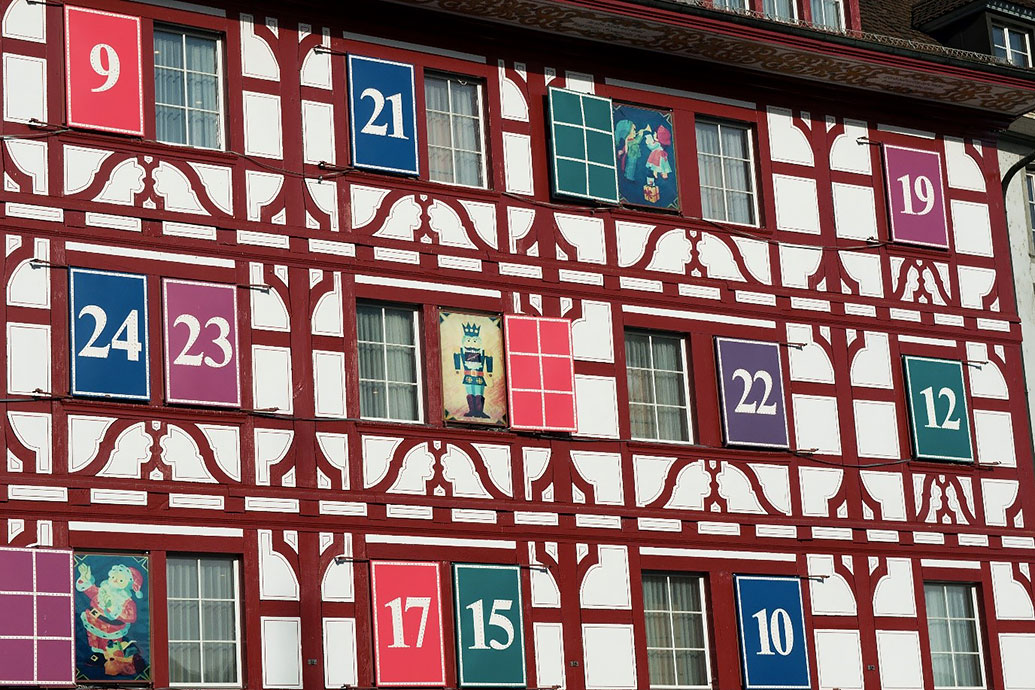 In some towns and communities, entire house facades are transformed into large Advent calendars.
In several towns and communities, buildings are transformed into giant Advent calendars. For this purpose, the windows are decorated before Christmas or given a number and festively illuminated in the evening. Sometimes people meet in front of these Advent calendar windows in the lead-up to Christmas and sing Christmas carols or tell Christmas tales.
Unique Advent calendar variants
Today, the Advent calendar has become a lifestyle product, far removed from its original meaning. Experts in psychology know that people are happy when they get to unwrap a present. This makes an Advent calendar the ultimate treat as it offers something to unwrap 24 days in a row.
If you enter "unusual Advent calendars" or "whimsical Advent calendars" in the search engine of your choice, you will find some strange discoveries. Want a little sample?
Scratch calendar
Muesli calendar
Schnapps Advent Calendar
Perfume Advent Calendar
Spice calendar
Maths Advent Calendar
Luxury Advent Calendar
App Advent Calendar
Incidentally, in addition to the article on the history of the Advent calendar, you will find many other informative articles on traditional Christmas customs in our magazine, such as why a fir tree is put up at Christmas, why we celebrate Saint Nicholas and what the >Christ Child represents. Enjoy reading the articles in Lignoma magazine.
If you are looking for Christmas nativity scenes carved from precious woods or nativity figures from Val Gardena in Italy, you are also welcome to take a look at the range of products in our shop.
Credits: main image: © galitskaya / stock.adobe.com; image 1: © Anneke / stock.adobe.com; image 2: © Naeblys / stock.adobe.com.