The most important thing is to guide children while they learn to sculpt. Tips and tricks to be an example when carving wood. With these points in mind, there's nothing better than watching children express their motor and artistic skills and proudly present their hand-carved masterpieces.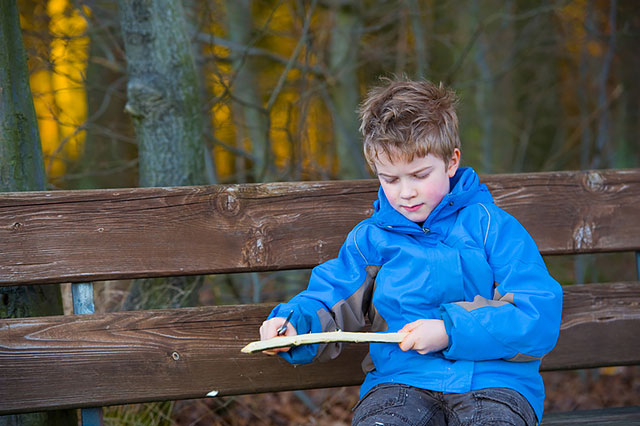 When children can start carving
At the age of eight or nine years, children's motor skills are so developed that they can be gradually introduced to woodworking. Small woodcarvers are therefore able to grasp the most important rules and focus on learning the basic carving techniques. The confidence placed in them is extremely motivating and strengthens self-esteem and technical skills. It is essential never to leave children unattended during sculpture. There are some manufacturers that offer carving knives for children from three years old and up. At this age, children can sharpen a stick or simply cut out the bark. Under supervision and with the appropriate carving tools, this should be possible without problems even at this age.
Children's carving tools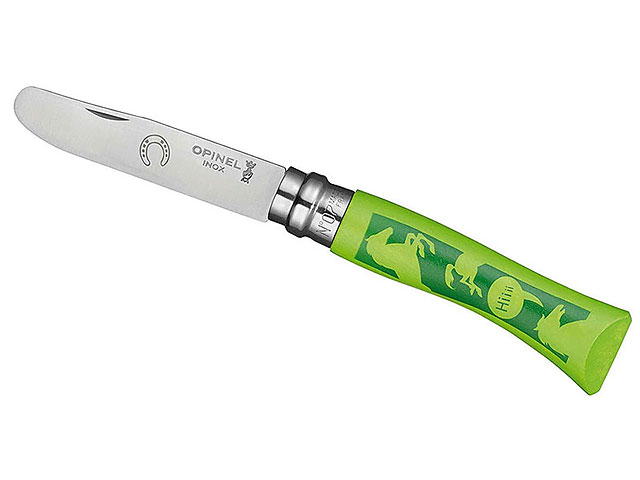 Opinel carving knife for children
Children need suitable carving tools. This includes small scratchable and carving knives with their slightly rounded tips and wrinkle protection. Famous manufacturers of carving knives for children include the brands Herbertz, Linder, Mora, Nieto, Opinel, Victorinox and Wenger (example from Opinel - see photo on the right). Carving sets and Haba carving gloves are available from Terra Kids. The range of accessories includes sharpening files and sharpening stones, oil and case as well as small unfinished pieces in lime wood to be processed.
Useful rules
Below are some rules that have been found useful when sculpting with children.
Whoever holds the carving knife has the great responsibility that nothing happens!
Children need an undisturbed and comfortable place, a protected space to be able to sculpt safely.
Do not "carve" anyone. You can do it keeping a distance of two arms from your neighbor. This way no one can be hurt if the carving knife accidentally slips.
Do not open the blade until you are sitting in the carving area.
Keep an eye on your surroundings at all times. This succeeds with the so-called "owl look". Don't just look at your own sculpture that you hold in your hand, but at everything around you. Very important: stop sculpting for a moment when someone passes by.
After the carving, the children's pocket knife must be resealed.
Never walk with an open cutting knife!
But the most important thing is that adults are role models. There are many other useful rules that can be found here.
To know: ideas and instructions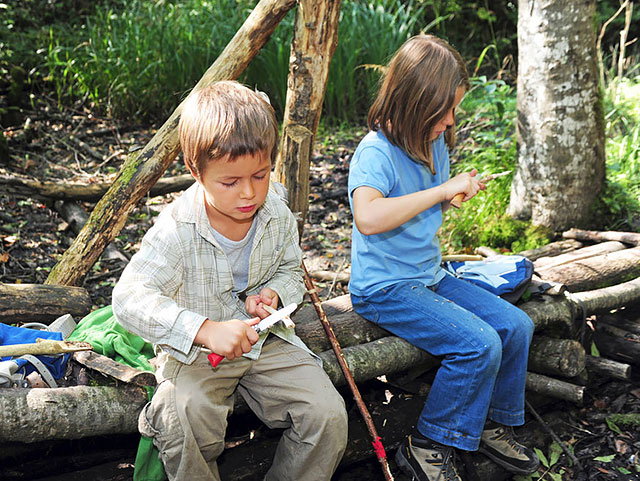 The carving inspires every child!
There are almost never limits to children's creativity when carving. Under the supervision of experienced adults, the little carvers can make all kinds of carved wooden figures, wooden animals, fruits or mushrooms. Carving supplies in the form of children's knives and various accessories are available, for example, from the Hobby-Versand-Spangler based in Hohenfels / Raitenbuch (www.schnitzerbedarf.de). For semi-finished wood products, we recommend the carving wood of KIDS AT WORK by Corvus, which is made of lime wood. The set includes one piece of round wood and two squares.
Update: Olaf correctly pointed out in the comments that children should keep a sufficiently large distance from each other - 2 to 2.5 arms - so as not to hurt each other when, for example, you work and the knife slides. The distance in the picture seems to be too small!
Suggestions for books
Those who prefer to inquire with a book instead of on the Internet will be interested in the following book tips:
"Working with a pocket knife" by Felix Immler (ISBN-13: 9783038006657)
"Carving with children" by Frank Egholm (ISBN-13: 9783772520327)
The book "Carve! The carving school for children!" by Sascha Kempter (ISBN-13: 9783772456848) is available on the book market since 2014.
"Carving with children" by Elke Schwalm (ISBN-13: 9783817494293)
"Active nature: carving" by Bärbel Oftring (ISBN-13: 9783897777767)
"The knowledge of carving" by Philip Kiefer (ISBN-13: 9783649615132).
Color carving
Finally, a note on the color carving (www.carving-colors.com). CarvingColors Manufaktur, based in Seedorf in Schleswig-Holstein, was founded in 2010 and produces a new type of creative carving product. This includes handmade chips made from starch, vegetable fat and food coloring. The goal is to remove the individual layers of color step by step with a carving knife in order to finally hold a ready-made carving figure in your hand.