Christmas is the highlight of the year for families. In a season that is usually characterised by cold and darkness, Advent brings wonderful feelings with candlelight, the smell of biscuits and carols. Find out here what truly matters at Christmas!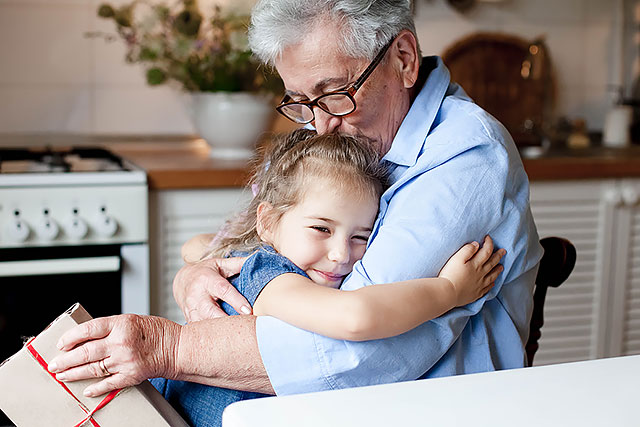 Between anticipation, excitement and silent night
Unfortunately, consumerism and the pressure to outdo each other with gifts and extravagant dishes every year doesn't stop at Christmas. So, what does it really take for children and adults to have a wonderful and enjoyable time together at Christmas? How nice would it be if it wasn't so much about the latest toys or game consoles, but rather singing, laughing and storytelling?
Advent and the Christmas holidays can be stress-free in families with children. Below we have put together a brief list of points to remind you why we still celebrate Christmas today, what Christmas means for children and which traditions and customs make for a more peaceful and intimate Christmas season.
Why do we still celebrate Christmas today?
A birth over 2,000 years ago. "And it came to pass in..." - probably every adult has heard the biblical Christmas story, even if they themselves have little to do with church and religion. The fact alone that the story of the birth of Jesus, which is said to have taken place in a manger in Bethlehem more than 2,000 years ago, still inspires Christians all over the world to celebrate Christmas today speaks in favour of still telling children about Mary and Joseph, the angels, the shepherds in the field and the other protagonists of the Christmas story.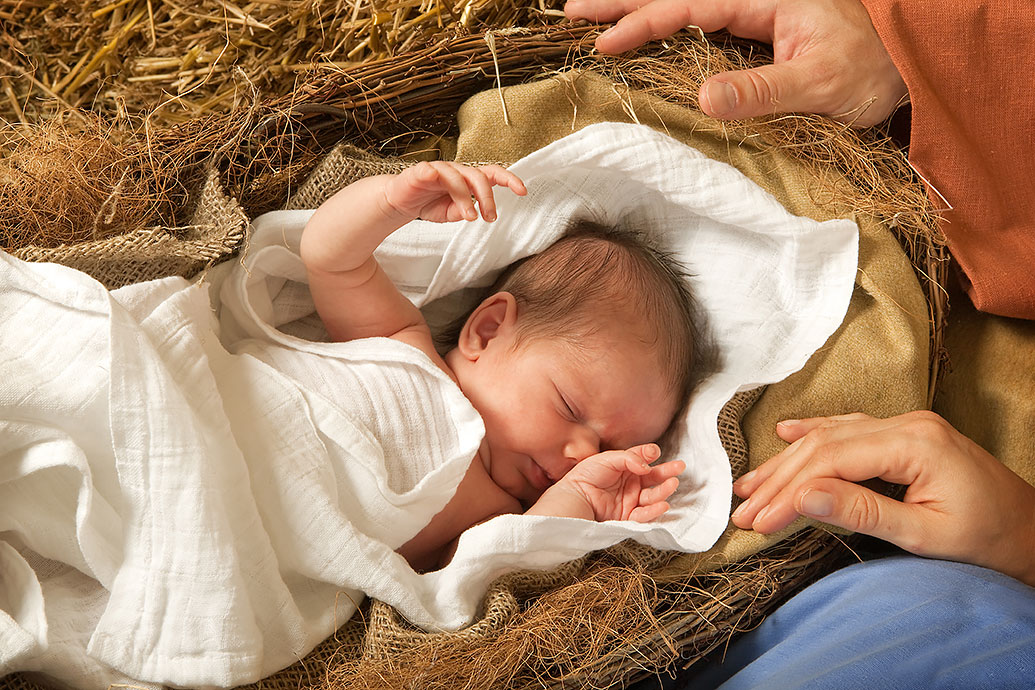 The baby Jesus was born in the manger.
Many children ask their parents about the child in the manger, the star over Bethlehem and the events that took place on Christmas Eve. But how do parents explain the Christmas story to their children in an understandable way?
It is important to tell children that Christmas is a Christian festival, but it is also celebrated by many people who do not go to church. It stands for love, compassion and peace.
Even young children understand that Christmas is a birthday celebration, which is why presents are given. The birthday child was born in a stable in Bethlehem over 2,000 years ago. And this little baby lying in the manger was to grow up to be one of the most important figures in Christianity.
The heavily pregnant Mary and her fiancé Joseph travelled to Bethlehem for a census, but there was nowhere to find a hostel room for the poor family. Fortunately, they were eventually offered a stable where the couple found safe shelter for the night.
At the same time, three wise men were on their way to Bethlehem, following a star. An angel appeared to shepherds who were keeping watch in the field near the stable, announcing the birth of a very special child. Sure enough, Jesus was born that night and the new parents were amazed when the shepherds and the three wise men from the East came to the stable, kept the young family company and brought gifts for the newborn. Unfortunately, Mary and Joseph could not enjoy familial bliss for long – King Herod had heard that a new king had been born and became afraid of his power. The Holy Family had to take their child to safety.
Mary and Joseph hold their newborn son in their arms.
It's a special story that still fascinates today. Parents who tell it to their children will be amazed at the analogies the little ones can draw. Whether it's about refugees, the injustice of a heavily pregnant woman not being offered better accommodation than a stable, or powerful people afraid of a new generation taking over - children will think a lot about what they can learn from the Christmas story. The Christmas story is not a "perfect world" story but it is a tale that highlights important values that children and adults alike should be reminded of.
Even for the youngest children, there are beautifully illustrated children's books with the Christmas story. And primary school children love it when their parents show them exactly where Bethlehem and Jerusalem are located in an atlas or on a globe. Many Christmas songs recount excerpts from the biblical Christmas story and are an excellent way to internalise what they have learned.
How do children perceive the christmas season?
Is it a wonderful time for all children? Christmas time can be a pleasant time for the whole family - provided that Christmas is celebrated in an age-appropriate way and the adults remain relaxed.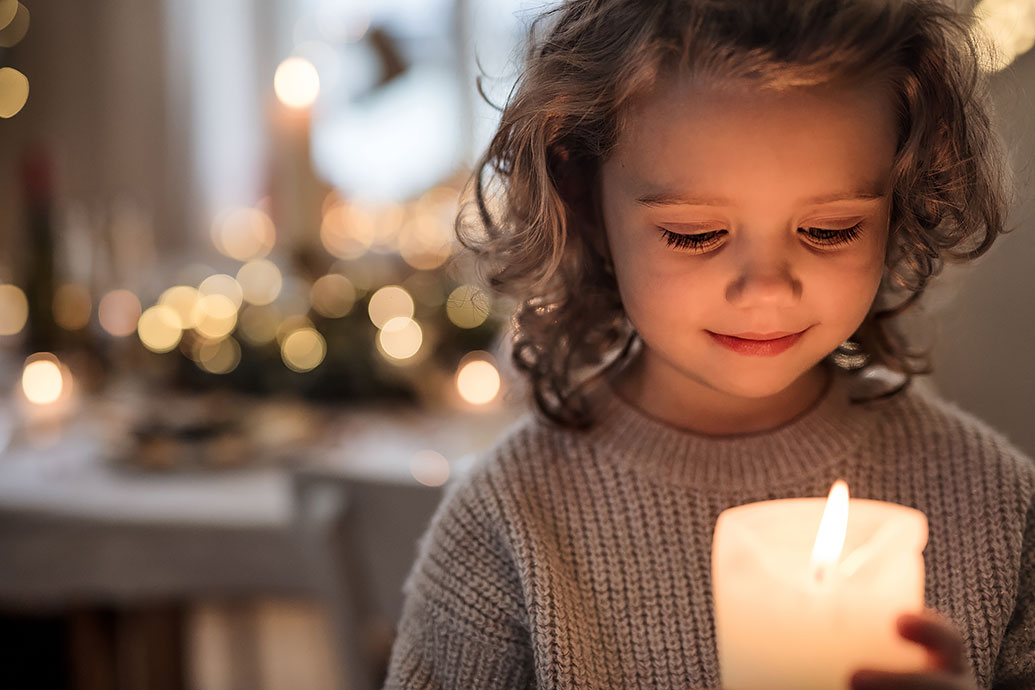 For children, Christmas is a time full of excitement, wonder and joy.
At Christmas, even babies are excited by the twinkling lights and colourful ornaments on the tree. And there is nothing they like better than to hear their parents and grandparents singing Christmas carols to them in a soft voice. The little ones, on the other hand, don't need expensive Christmas presents. If you feel like giving a young family a treat, why not give them a nativity scene figurine to get them started?
Children of kindergarten age love to sing Christmas carols with their parents, cut out biscuits and decorate the tree. They enjoy the intimate family time. On Christmas Eve, most churches have beautiful children's services with a nativity play.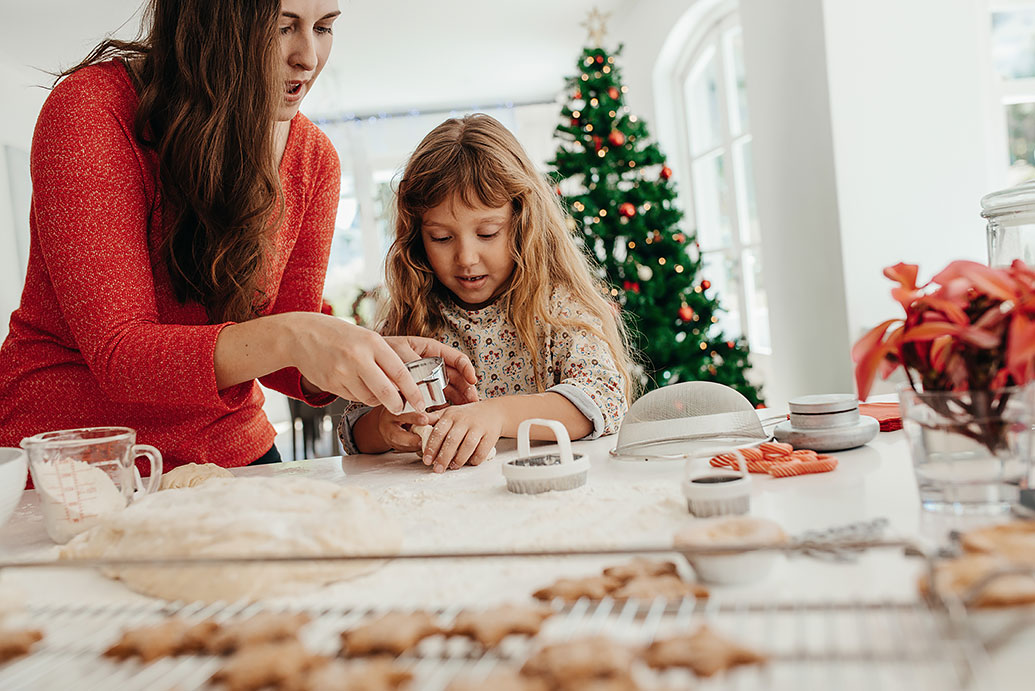 Baking together is an important ritual for the family.
Schoolchildren already understand the Christmas story well. What they love most about Christmas are the presents. And even if teenagers like to show their rebellious side during Advent, they usually have little to object to when it comes to delicious biscuits, games and a visit from their grandparents.
Christmas is not a particularly relaxed time in every family. If the parents still have to work on Christmas Eve or if conflicts arise, for example, the stress is quickly transferred to the children. In such cases, it is important to lower one's expectations and avoid unrealistic expectations for a harmonious Christmas. There is nothing wrong with ordering the Christmas roast to be delivered by a restaurant, store-bought biscuits and enjoying stollen from the bakery. Much more important than a picture-perfect Christmas is sincere, friendly togetherness.
Celebrating advent and Christmas - A time full of beautiful rituals
In a world where traditions and rituals seem to be out of fashion, Advent and Christmas arguably tug at everyone's heartstrings. Grandparents tell their grandchildren about Christmas celebrations in their childhood, the family bakes biscuits together and in school, busy children's hands make loving Christmas presents for their parents. A detailed overview of Christmas traditions in Germany and other countries can be found here in our magazine. Here, we would like to briefly introduce some of the most wonderful Advent and Christmas traditions that are suitable for families as well:
Baking together
Vanilla crescents, speculaas or butter biscuits - every family has a favourite biscuit with which they ring in the Advent season. Even small children take great pleasure in rolling out dough, cutting out biscuits and decorating them with colourful sprinkles. It is important to allow ample time for Advent baking in the family. Children often need longer to cut out the treats, one or two pieces of dough are eaten straight away and by the end, the little bakers usually end up covered in crumbs and flour. Needless to say, patience is needed. If you want to get in the mood for Advent as early as November, bake fresh stollen and leave it tightly wrapped under the bed to age. A last-minute idea for families with little time is gingerbread houses, which can be bought pre-baked. Stick the slabs together with icing and decorate the house with colourful candies, sugar pretzels and sticks. The finished product will be a delicious gingerbread house that is almost too good to eat!
Advent wreath
Advent wreaths and arrangements are easy to make and decorate yourself. You can find all the materials you need in florists' shops. But a ready-bought Advent wreath is also a source of great joy: every Sunday in Advent, a family member lights an Advent candle, a song is sung and perhaps even a beautiful story is read aloud.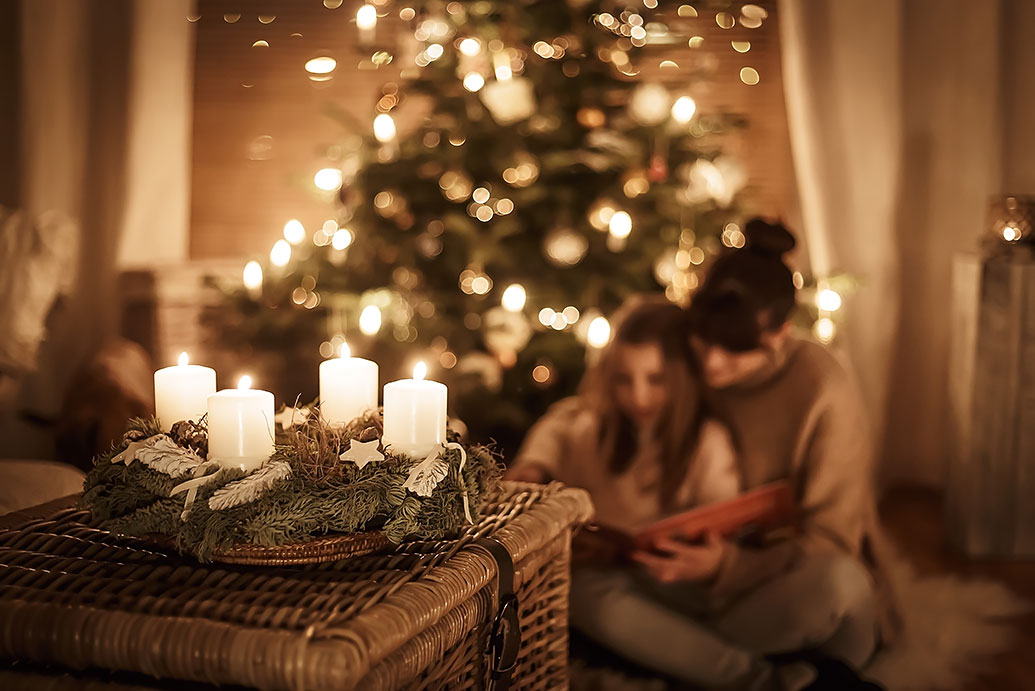 A homemade Advent wreath is a must at Christmas.
A plate of cinnamon stars, Printen or chocolate moons certainly can't hurt either. And with every candle that burns on the Advent wreath, the anticipation of Christmas increases immeasurably.
Saint Barbara's Day on 4 December
4 December is the day of remembrance for Saint Barbara. In some regions, people put fresh branches in a vase filled with water on this day. The forsythia, redthorn or fruitwood twigs blossom until Christmas Eve and are considered by many people to bring good luck. Saint Barbara's branches can also serve as an oracle: For this, each family member hangs a wish or message on a branch. The branch that blossoms first holds the message that is to come true.
More posts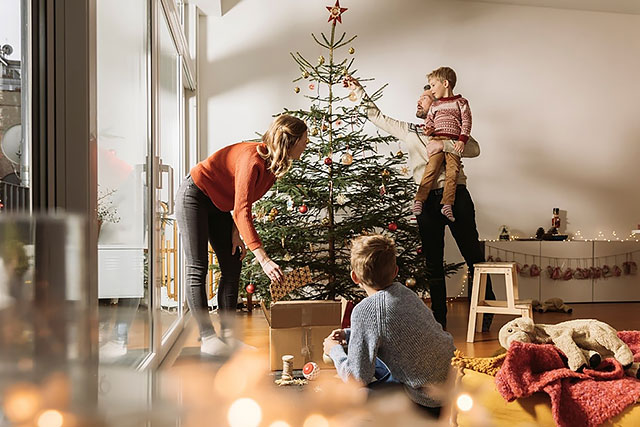 Decorating for Christmas - 7 simple tips and creative ideas
Christmas is the highlight of the year for families. In a season that is usually characterised by cold and darkness, Advent brings with it many good feelings with candlelight, the smell of freshly baked biscuits and the sound of carols. Find out more about what makes Christmas so special!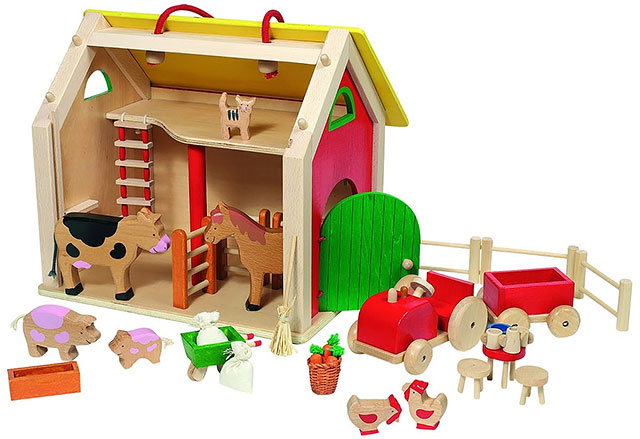 Wooden Toys: A classic for the children's room
Always more families ban plastic from their children's rooms and let children play with toys made of natural materials. In our article you will find out what is important when you buy wooden toys and why they inspire the imagination of children.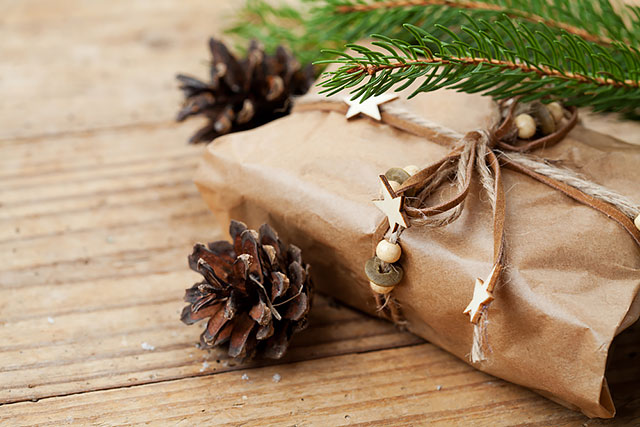 Tips of wooden gifts for Christmas
Sustainability is in line with the trend. That's why wooden Christmas gifts are becoming increasingly popular. In this article we show you the most beautiful gift ideas made of this natural material. Why not give something sculpted that brings joy even after the vacations?